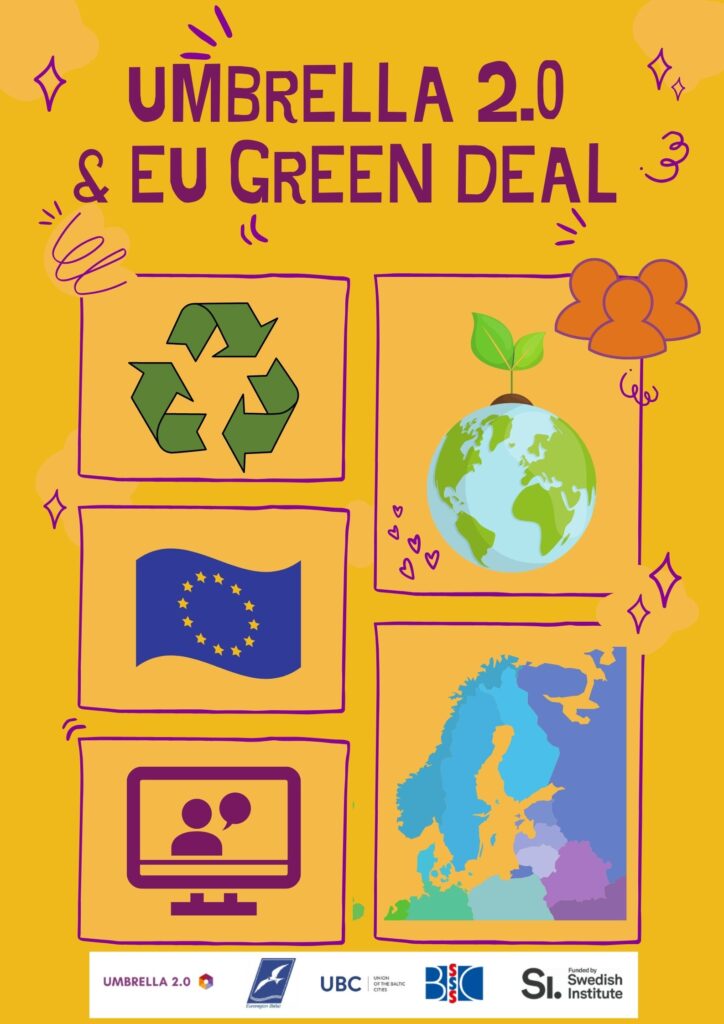 We invite you to join us on 15th June for another Umbrella 2.0 webinar – this time on EU Green Deal and its relation to the Baltic Sea Cooperation. If you represent small and local organisation from the baltic Sea Region this event is dedicated to you. We plan to bring closer the EU Agenda that is referring so much to sustainability, green planet goals and efficient use of resources.
Registration: https://zoom.us/webinar/register/WN_CUHZ0W3CTJuDK_dIwqD9Zg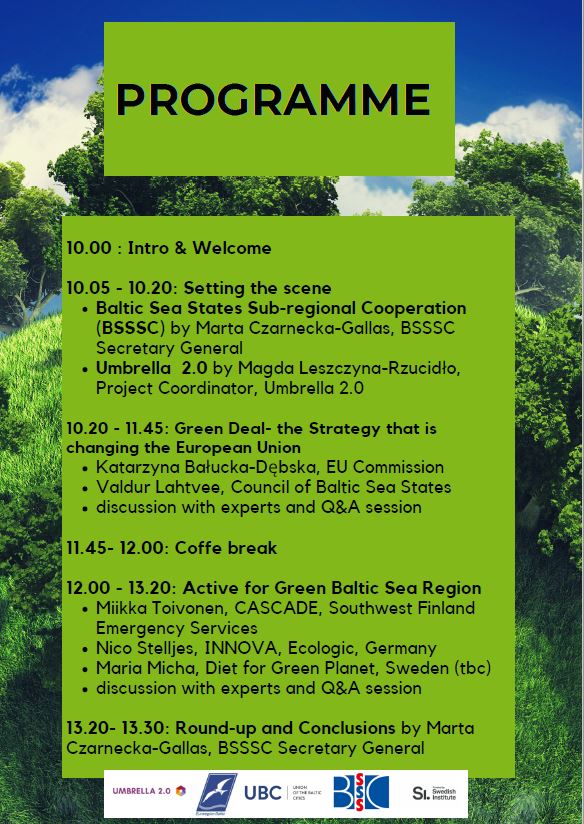 European Green Deal
Climate change and serious environmental degradation are a fact. They are severe threats to our planet and all the living creatures, including us – humans. We have extensively used finite resources like water, gas, oil, rare metals, etc. As the result of overconsumption and overproduction, we have been producing too much, often very harmful, waste which has ended in our oceans and landfills. And most of it does not degrade. The air in many parts of the earth is polluted and harmful to our health and wellbeing. We have been destroying nature and biodiversity by cutting trees, using farmland extensively, overregulating rivers and using too much concrete. As a result, we experience extreme weather phenomena such as torrential rains, floods, high temperatures, hurricanes or draughts, and we face severe water shortages. The modern production of food is also harmful to nature – it produces too much CO2 and causes nitrate leakage, degrades vast areas of soil and results in excessive water and energy use. Specialists throughout the planet and people living close to nature have been warning us for quite some time but only now we have realised how bad the situation is and that immediate actions are needed throughout the Globe.
As a response to the situation, the European Union has decided to adopt a new growth strategy which guarantees that:
There are no net emissions of greenhouse gases by 2050;
Economic growth and human wellbeing is not at the price of extensive resource use;
The planned transformation will bring positive changes to all the people and areas covered.
The new strategic document, adopted in December 2019, is called the European Green Deal. It is accompanied by an Action Plan which shows how to:
Boost the efficient use of resources by moving to a clean, circular economy, and
Restore biodiversity and cut pollution.
The goals are very ambitious and require changes and transformations in all sectors and the involvement of all of us – from decision-makers through research, business and agriculture sectors to consumers. Therefore a set of strategic documents and regulations have been introduced, and new ones are planned. Some of the key ones have been:
European Green Deal Investment Plan – looking into the financial resources;
Just Transition Mechanism – to provide support for the areas which will be most seriously affected to support the necessary economic and social transformation;
European Climate Law;
Circular Economy Action Plan – to encourage us to use resources more efficiently and responsibly;
Farm to fork strategy – to make food production and consumption more healthy to us and the planet;
EU Biodiversity Strategy for 2030 – to protect our planet natural resources;
New European Bauhaus – an environmental, economic and cultural project to make our living areas environment–friendly, aesthetic and inclusive for all.
All those policies and plans introduced at the EU level are in an obvious way necessary for the Baltic Sea Region. Current EUSBSR AP, with the support of EU and other available funds, takes them into account and responds to them. All the individual, national and international activities – no matter how small – need to add to the shared success. So it is time for all self-governments, business of all kind, educational and cultural institutions, and civil society to join forces across borders to stop the damage and reverse the negative changes. Being involved in international projects helps us understand the processes, learn from experience and change the world around us for the better.