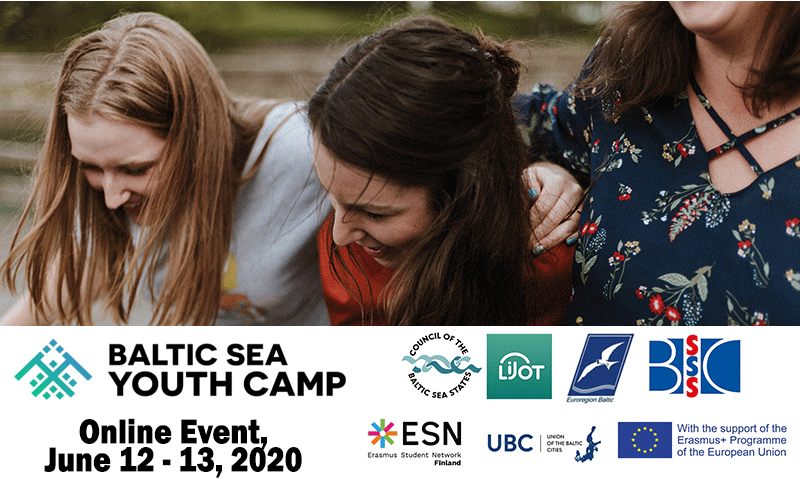 We start tomorrow at 15.30 CET. Please create your
Hi
We're happy to announce that tomorrow at 15.30 CET we start the Baltic Sea Youth Camp 2020, digital edition.
We kindly ask you to register at your earliest convenience so that we do not experience any delays during the event.
After your registration you will receive 2 reminder emails from HOPIN – one email 24 hours and one email 1 hour before the event begins. This is unfortunately not something we can turn off.
On the day of the event, please just go to: https://hopin.to/events/baltic-sea-youth-camp-2020-digital-edition where you will enter our reception and wait until the event starts.
There are many breaks for you to recharge your batteries, but please attend and be active in all the plenaries and one workshop per session to get the most out of the Baltic Sea Youth Camp.
We will provide Certificates of Attendance after the event.
Clarification of platform concepts
• Reception – waiting area before the event. Nothing happens here.
• Stage – is the big stage, where we broadcast presentations and have plenary sessions. Here you can only listen & watch. You can comment and ask questions using the chat function.
• Networking – an area where short ONE-on-ONE meetings takes place to get to know each other. Use coffee and lunchbreaks to meet other participants.
• Sessions – are used for the smaller workshops with a maximum of 20 participants (sharing audio and video) and 100 participants who can listen and watch.
FYI: Only some plenary sessions will be recorded, you are encouraged to actively participate with your audio and video in the workshops and you can be sure these sessions won't be recorded.
You can find an updated program on our website, visit: https://www.balticyouthcamp.org to check it.
Apart from the sessions we want you to get in touch with Baltic Sea food culture, therefore we have prepared a recipe booklet, please feel free to check it out and choose your favorite recipe for the weekend and buy the ingredients to get the full Baltic Sea experience.
We would also like to let you know that there will be a movie night on Friday starting at 20:00, the Nordic Pulse Documentary will be screened and you get the chance to ask questions from two of the protagonists from the Baltic Sea Youth Philharmonic.
If you still have some friends who would like to join the event, please let them know to get in touch with us, through sending a mail to: info@bsryc.eu
We are also happy to answer any of your questions.
We are very much looking forward to seeing you all on Friday and Saturday.
Kind regards
BSYC team