The Interreg South Baltic Programme invites to its 5th Annual Event!
Due to the COVID-19 outbreak and concerns regarding the situation later this year we decided to meet virtually.
On the 17th of September at 10 am we will meet to share thoughts on the impact of Interreg funds on small regions and celebrate the 30 years of Interreg and European Cooperation Day.
The two online panel sessions will be led by Regional Contact Point Bornholm who will meet with Danish projects partners and local authorities in the Museum of Bornholm in Rønne. On the premises of the Museum, we installed an exhibition which is a part of the celebration of 30 years of Interreg and European Cooperation Day. On colourful posters, we will see projects developed under 5 Interreg programmes with Denmark in their region.
During the first panel, representatives of South Baltic projects will discuss the influence of their projects' results on the everyday life of regions and present case studies. The second session will be devoted to the future of the South Baltic Programme. Together with politicians from different Member States, we will talk about the upcoming Programme period and regional cooperation. Participants will have a chance to post their questions to panellists during the Q&A time. What is more, to entertain you, we invite all for a short quiz to celebrate the 30th anniversary of Interreg.
Look into the agenda for the detailed event's programme:  https://bit.ly/3jEU7pa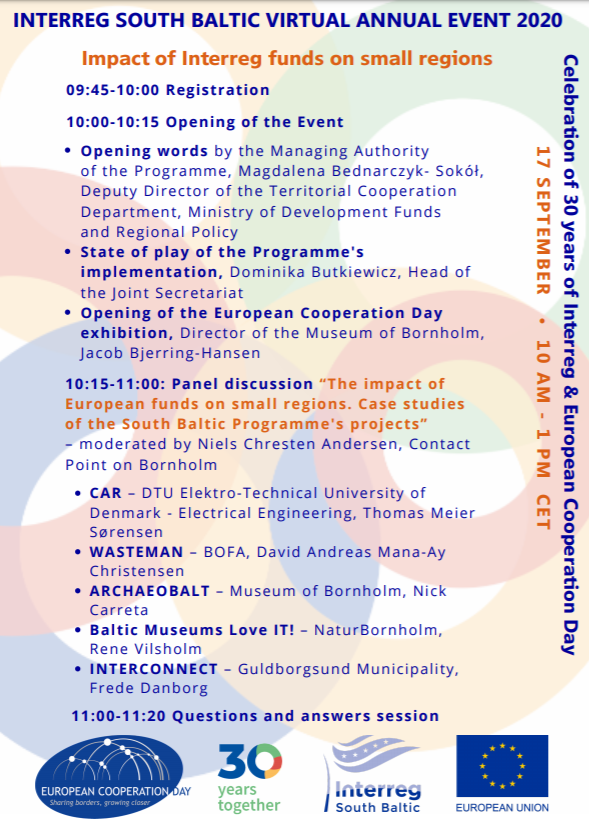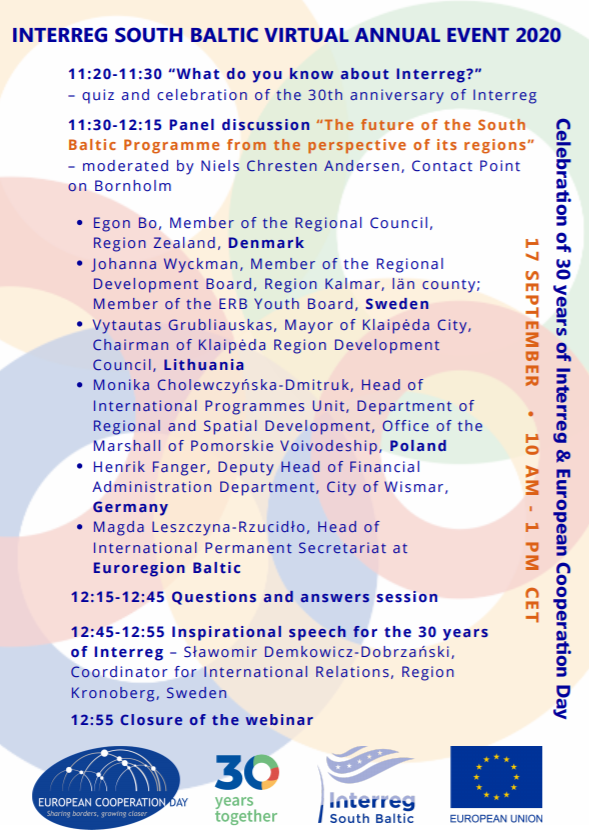 Registration is now open. Click here to register: https://southbaltic.eu/registration2020
After registering, no later than a 1 day before the event, you will receive an email from the JS with an official confirmation of participation with login credentials to the ZOOM platform.
Make sure to join with us, as Umbrella project team will be present and ready to discuss the results of our projects, as well as the future possible capacity-building activities.