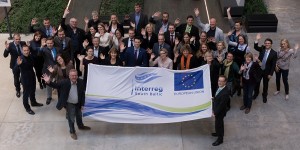 On 1 and 2 October 2015 in Gdańsk, the Members of the Monitoring Committee for the South Baltic Programme 2014-2020 during their first meeting approved the timeframe for the first call for proposals. Applicants can submit their applications under all the specific objectives of the Programme between 2 November and 18 December 2015.
The five national delegations from Denmark, Germany, Lithuania, Poland, Sweden and the joint delegation of Euroregions Baltic and Pomerania approved also the new Programme Manual as well as the application pack for the first call. A mock-up application form together with a working version of the Programme Manual will be made available on the Programme's website in the course of October. Project consultations are planned by the Joint Secretariat and the Contact Points in all Member States between 3 and 20 November 2015. Applicants will be requested to register their project ideas via a dedicated online form prior to the consultations. Further information on the dates for the meetings will follow shortly.
The second call for proposals is planned between 9 May and 17 June 2016.
Source: http://2014-2020.southbaltic.eu/