On 13th January 2021 Umbrella 2.0 project partners: Euroregion Baltic, Unione of the Baltic Cities and Baltic Sea States Subregional Cooperation met together with the Swedish Institute representative to officially start the activities in the new project. Read below to get to know our project better and familiarise with the activities we plan to offer to our beneficiaries in the Baltic Sea Region.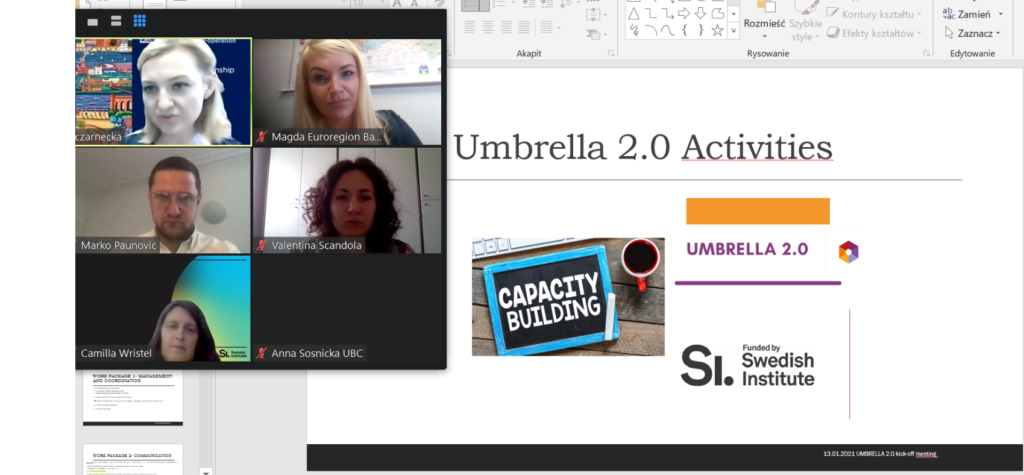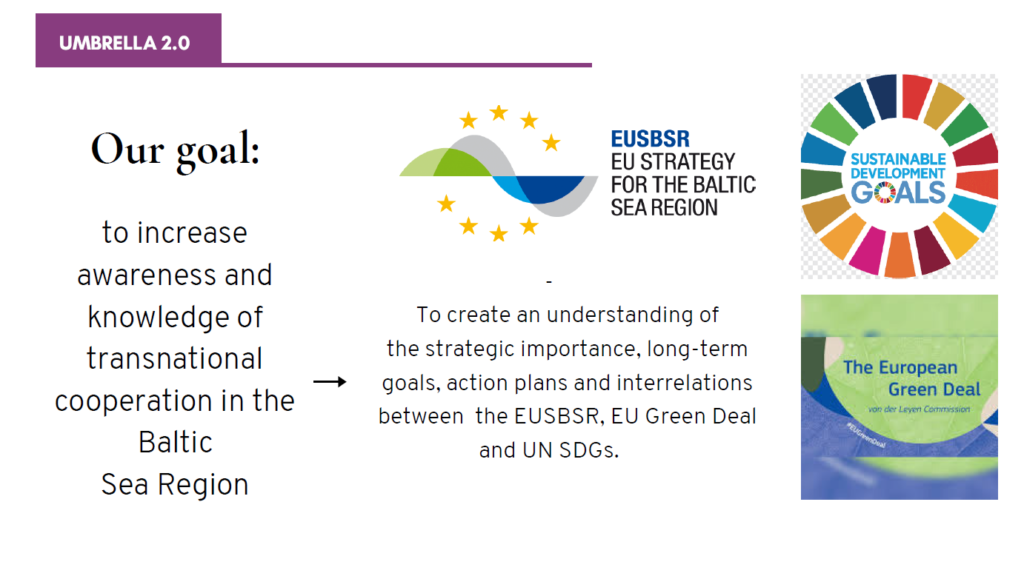 UMBRELLA 2.0 – why we applied to SI for the support?
2021 will be a gap year for cross-border cooperation. The South Baltic Programme, a primary financial tool utilised by Euroregion Baltic to reach its scope, will launch the new programming period 2021-2027 only at the end of 2021. Only small project funds will be available. Hence, Euroregion Baltic realised that the Umbrella project's success and capacity building process initiated in 2018 could not be stopped. For this reason, the so-called Umbrella 2.0 proposal was presented to the Swedish Institute as the natural consequence of Umbrella Project (SBP) and its willingness to become a recognised brand, active also on a broader Baltic Sea scale.
Therefore, Euroregion Baltic, together with UBC and BSSSC, submitted Umbrella 2.0- Boosting transnational cooperation capacities for multilevel actors in the Baltic Sea Region- that has been approved by the Swedish Institute in Nov 2020 and launched in January 2021.
AIM OF THE PROJECT
The project's overarching goal is to increase awareness and knowledge of transnational cooperation in the Baltic Sea Region. More specifically, the project aims at initiating a process for the development of strong multi-actor and multilevel governance partnerships that can undertake cross-sectoral sustainable solutions while following the principles and objectives of the EU Strategy for the Baltic Sea Region, EU Green Deal and UN SDG.
The aims concerning the Baltic Region are :
– To raise awareness of opportunities and benefits of transnational and cross-border cooperation and increase regional stakeholders' interest in it;
– To empower stakeholders to build strategic and long term-partnerships, support networking, and straighten community of practitioners in different sectors;
– To improve knowledge of the EU, its financial instruments and relevant strategies, with particular focus on the EUSBSR;
– To explore the opportunities and benefits of being part of EUSBSR and offer practical guidelines on how to engage in long-term;
– To help build competencies, i.e. knowledge and skills necessary to run projects with benefit to the Policy areas, and create specific networks of interest in different sectors in a cross-sectorial manner focusing on a shift and transformation by our beneficiaries (activating them for sustainable transnational cooperation).
Umbrella 2.0 builds on Umbrella project results. The Umbrella project was launched at the beginning of 2018. It resulted from the realisation that the South Baltic Programme (SBP) was hard to access for small organisations, mainly because of their insufficient institutional and financial capacities. SBP stakeholders in general and small local actors specifically still experience communication barriers, limited English language skills, and lack of competences and capabilities in project development and implementation. To address these challenges, the Umbrella project committed to developing know-how capacities for small local and regional actors and civil society organisations in the South Baltic Programme area to improve their cross-border cooperation participation. To achieve this goal, Umbrella implemented a significantly more comprehensive approach, determined by a strategic decision of the partnership to address different levels of capacity building processes – from a single institutional capacity of potential project partner, via micro-activities addressed to the micro organisations till strategic capacity building on the programme macro-level where we cooperated with EUSBSR HA Capacity coordinators (our Associated Partner).
Umbrella proved to be an optimal mediator among different stakeholders. Therefore, starting from the presumption that the EUSBSR and the local actors are completely detached one from the other, Umbrella 2.0 objective would be to develop know-how capacities for local organisations in cooperation in the Baltic Sea Region, harmonising local needs and actions and upper strategic lines.
While the local actors are focused on objectives in their local sphere of influence, the strategy provides guidelines that are not known at the local level. A bridge between local actors and the strategy needs to be set to enhance the interaction among all the governance levels to start a process that can facilitate the implementation of EUSBSR and other sustainable policies matching with EU Green Deal and SDGs. Umbrella 2.0 would act to mediate the communication between the strategies and the local level, raising awareness and providing practical knowledge and tools for implementation.