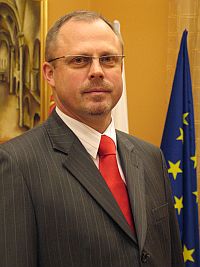 Mr Jacek Protas, Marshal of Warmińsko-Mazurskie Region, has become the twelfth chairman of the Euroregion Baltic Executive Board. His term will continue until the end of March 2010.
Mr Jacek Protas was born in 1964 in Lidzbark Warmiński, in the Polish region of Warmińsko-Mazurskie. He graduated from the Physical Education Academy in Gdańsk and completed post-graduate studies in public administration. He is married and has a son, who is now a student at the Warmińsko-Mazurskie University in Olsztyn.
Mr Protas has been active in local and regional politics since the self-government was reinstalled in Poland as a result of democratic transformation of 1989. Between 1996 and 1998 he chaired the Municipal Council in Lidzbark Warmiński and in 2000 he took the seat of Office of Lidzbark Warmiński County Board Chair.
Following the parliamentary election victory by the Civic Platform in 2006, he became the Marshal of Warmińsko-Mazurskie Region. He is also the leader of the party in the region and a member of the Polish delegation to the Committee of the Regions.