The Euroregion Baltic Executive Board members, ERB Youth Board members and ERB SEcretariats & Water Core Group representatives met on 8th September 2020, again in the digital format, due to the COVID19 situation. The meeting was chaired by Mr Witold Wróblewski, ERB President and started with the informative round on COVID19 situation in all five ERB countries, presented by the ERB Board members from Poland, Sweden, Denmark, Russia and Lithuania.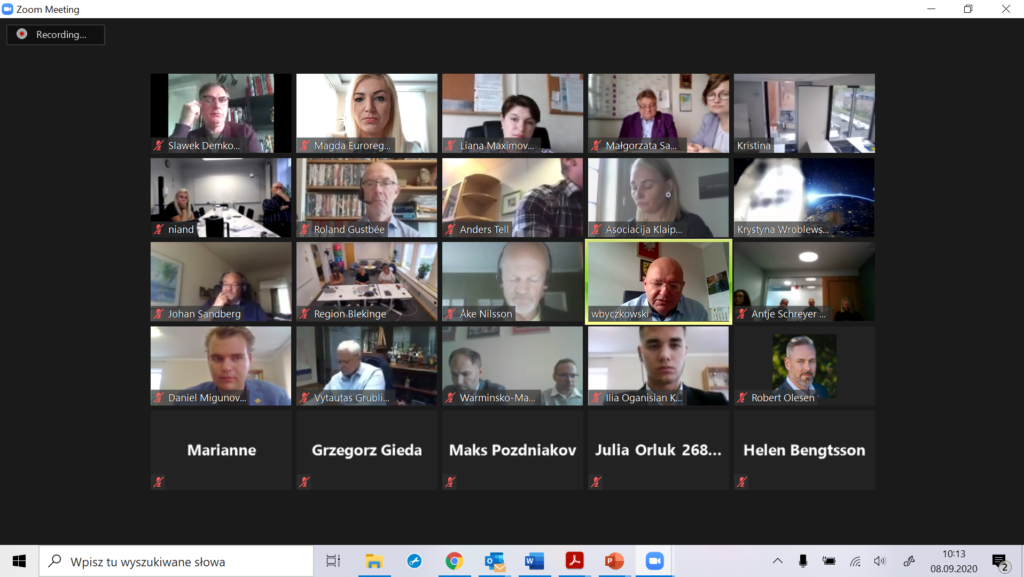 Among discussion points there were:
information from the South Baltic Programme Monitoring Committee and Joint Programming Committee meetings with the special attention out to the programming for South Baltic 2021-2027 presented by Mr Niels Chresten-Andersen from Regional Municipality of Bornholm and Mr Sławomir Demkowicz – Dobrzanski from Region Kronoberg;
newest capacity building initiatives based on the UMbrella Interreg South Baltic project presented by Ms Magda Leszczyna-Rzucidło, Head of the ERB IPS and MS Valentina Scandola, Umbrella Project Leader;
proposal of the establishment of "Sustainable transport Working Group in ERB" by the Blekinge Region and Mr Mattias Andersson, Interconnect Interreg South Baltic Project Leader;
presentation of the Interreg Baltic Sea Region Seed Money Facility "WaterMan" project, selected for funding in June 2020 and starting in October 2020. This part was presented by the Water Core Group representative from Kalmar region Mr Tobias Facchini.
The ERB Board members agreed to continue working in on-line format until the possibilities to travel and meet in person becomes safe again. The next Board meeting was scheduled for 3rd Dec 2020, back-to-back with the Umbrella project final conference (digital format).