On 17th December representatives of all project partners coming from Sweden, Poland, Estonia and Russia met to discuss the upcoming project activities foreseen for the beginning of 2022. Euroregion Baltic was represented by our expert – Krystyna Wróblewska.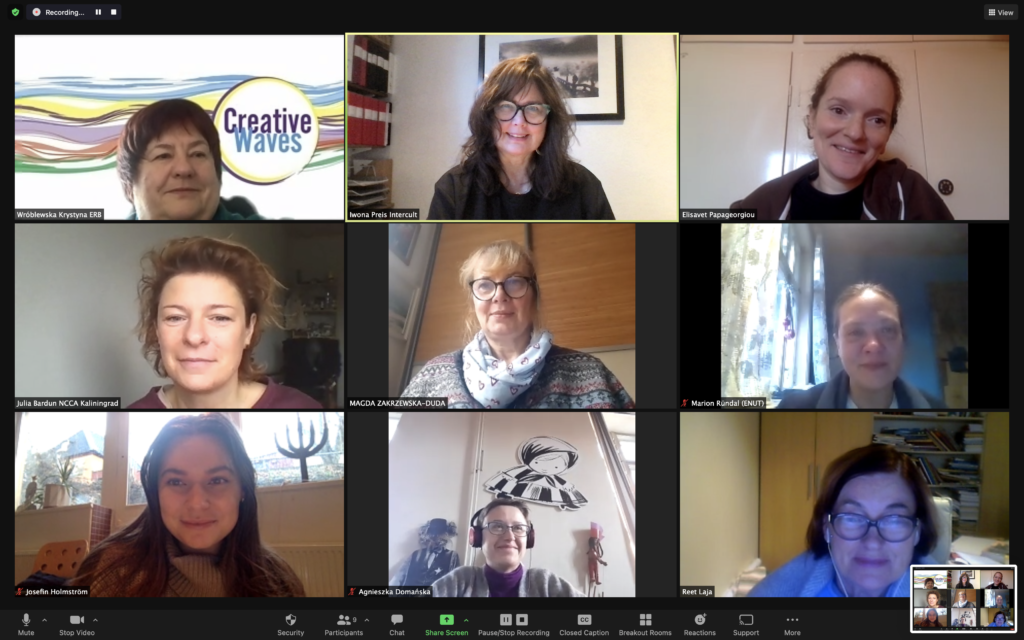 Creative Waves – Women Sisterhood for Change project.
Empowering women in the Baltic Sea Region by meeting traditional crafts, local traditions and customs etc with the digital modern world and its demands for change is our goal.  Women active in knitting, weaving, storytelling, herb gathering or traditional cooking gather online with creative and digital women experts to get more confidence, show their achievements and learn about the digital world and tools to help them function in the COVID times and beyond. They also meet at international events (online and in flesh) to exchange experience, learn, even more, look together for Baltic traditions and identity. Hopefully in arranging the events while implementing the project its partners will bring together more experienced women and the youth as well as migrant women – to enrich the exchange and help participants be more rooted, open and self-assured. The project is also to help learn about and implement EU key policies like EU Green Deal, European Union Strategy for the Baltic Sea Region and UN Sustainable Development Goals. 
The project partners under the leadership of Intercult Productions in Stockholm are: Baltic Sea Culture Centre in Gdańsk, Association of Polish Communes Euroregion Baltic, Estonian Women's Studies and Resource Centre (ENUT) and a team of women activists from Kaliningrad Oblast. The project lasting from September 2021 to September 2022 is co-finessed by the Council of the Baltic Sea States Small Project Facility 
Funded by the CBSS Small Project Facility